A guest post by Madelynn Martiniere
February 24-26 marked the first annual BeMyApp event here in Dallas, hosted by Tech Wildcatters in Uptown. BeMyApp is a mobile app design & development competition, where idea generators, developers, and designers of all ages and skill levels come together to create a functioning app in just 48 hours. This weekend the competition was help simultaneously in Dallas, New York, San Francisco, Berlin, London, and Paris.
Ben Morrow had attended last year's BeMyApp in San Francisco,
"I watched the Namerick team build their app during the weekend, release it, and get coverage in blogs. I wanted so badly to bring the event to Dallas. When the idea for the App Olympics came, it was the perfect chance for our local developers and designers to compete globally."
Ben was a fantastic host, and he pulled together the sponsors and competitors to make the inaugural BeMyApp Dallas a success.  His day job is cofounder of Liquid, a Dallas startup that has designed a new touch interface for personal finance. As part of the closing ceremonies of the competition, he announced the official launch and availability of their eponymous app in the Apple App Store.
App Olympics Weekend
On Friday evening, 18 idea generators had 60 seconds to pitch their products to the designers and developers. Out of those ideas, the top 6 were chosen by vote and thus began the race to complete the apps. The ideas were varied in premise, complexity, and execution; including mobile games, health analytics, and music and news aggregators with heavy social media components. The teams developed their ideas on iOS, Android, and Windows Phone until Sunday evening, when they gave their final presentations to a panel of judges.
The winning ideas were a mix of beautiful design and execution. Third place went to Fambli, a tool to help families define and internalize their values. Second place went to That Day When, which allowed users to aggregate their stories and sentiments about days and events in history. The first place winner, HaikuBrew, created a sleek interface for creating haikus using Facebook social integration. The HaikuBrew team includes Nick Gottlieb, Brian Ellison, Robert Prottorff, John Watson, and Rodivic (Rudi) Garcia. John graduated UT Dallas in 2005 with degrees in Mathematics and Computer Science, while Rudi is a graduate student in Arts & Technology.
After the winner from each city was picked, they then were pitted against each other in a 48-hour online vote for the winner of the 2012 Mobile App Olympics. Dallas's HaikuBrew earned silver in the global competition, with first place going to Kinvolved from NYC. The top three winning teams were rewarded with prizes and are expected to have apps available shortly.
BeMyApp attracts those who are truly passionate about ideas and flawless execution. Amidst the chaos and the pressure to complete a working app in such a small amount of time, those involved are dedicated to the cause they chose, and to their practiced discipline; whether it be design or development or leadership.
More information on the mobile olympics competition is available on BeMyApp.com. Photos of the Dallas event are available on my Flickr set.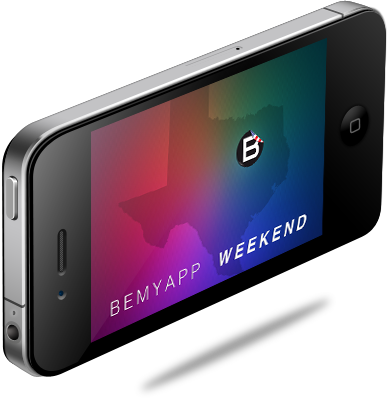 Author: Madelynn Martiniere is a serial web-centric entrepreneur in Dallas, TX. She works as a freelance agent for digital media and entertainment industries and social media consultant. She is currently a senior Arts & Technology student at University of Texas at Dallas.
BeMyApp Dallas 2012 App Olympics Video
Press Coverage from BeMyApp Dallas